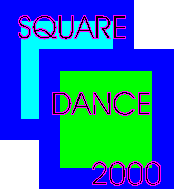 The Basic Mainstream Tutorial (BMT) is an animated, interactive program designed for several different classes of square-dancers:
Dancers who are engaged in lessons in the basic or mainstream program. This tutorial will re-enforce what is taught in lessons and is not intended to replace lessons.
Dancers who have finished lessons, have danced a while and realized they need a review.
All dancers including Advanced and Challenge who learned Basic/Mainstream the 'old way' and would like to know just what the heck a Flutterwheel really is.
Click on any of the below buttons for more information.